Korea Foodbank
WHO ARE WE
Korea Foodbank is a community-based civil service to procure food surpluses and essential supplies and provide food assistance to hungry and vulnerable people through food bank networks and local social welfare organizations over the country. The items are donated by individuals or food wholesale & retailers and food manufacturers.
Since it began in 1998, the monetary amount of donated goods received by the Korea foodbank grew 85 times for the last 22 years, from 2.7 billion won to 230 billion won, and the institution offers them to 300,000 individuals and 14,000 social welfare facilities a year. In addition, more than 13,000 food and living goods firms contribute to the Korean foodbank.
1 Central Foodbank
17
Metropolitan
Foodbanks
295
Local Foodbanks
132
Local Food
Markets
445 Foodbanks nationwide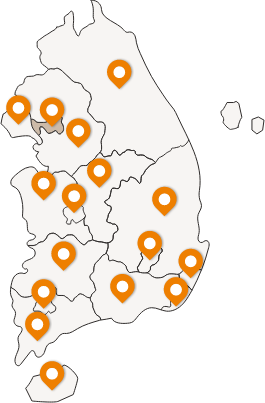 OUR HISTORY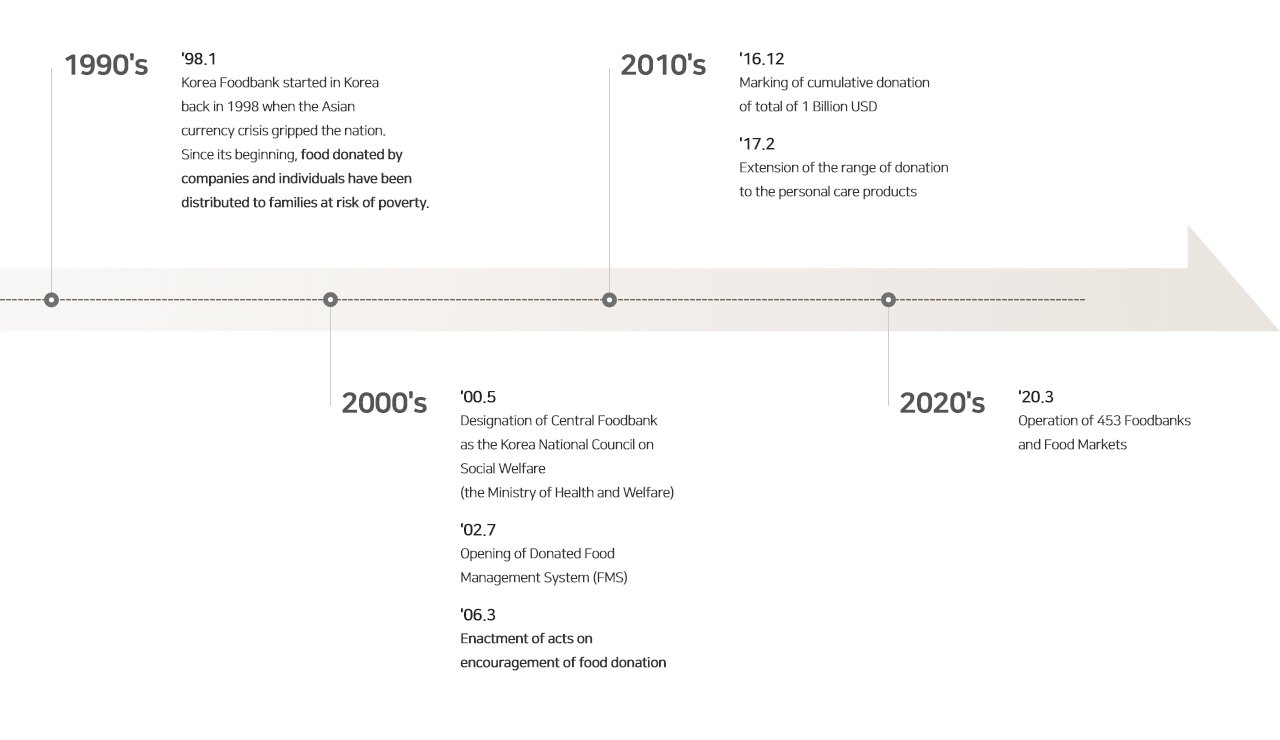 1990's
'98. 1 :Korea Foodbank started in Korea back in 1998 when the Asian currency crisis gripped the nation. Since its beginning, food donated by companies and individuals have been distributed to families at risk of poverty.
2000's
'00. 5 : Designation of Central Foodbank as the Korea National Council on Social Welfare(the Ministry of Health and Welfare)
'02. 7 : Opening of Donated Food Management System (FMS)
'06. 3 : Enactment of acts on encouragement of food donation
2010's
'16.12 : Marking of cumulative donation of total of 1 Billion USD
'17. 2 : Extension of the range of donation to the personal care products
2020's
'20. 3 : Operation of 453 Foodbanks and Food Markets
OUR HISTORY images a large view
HOW TO OPERATE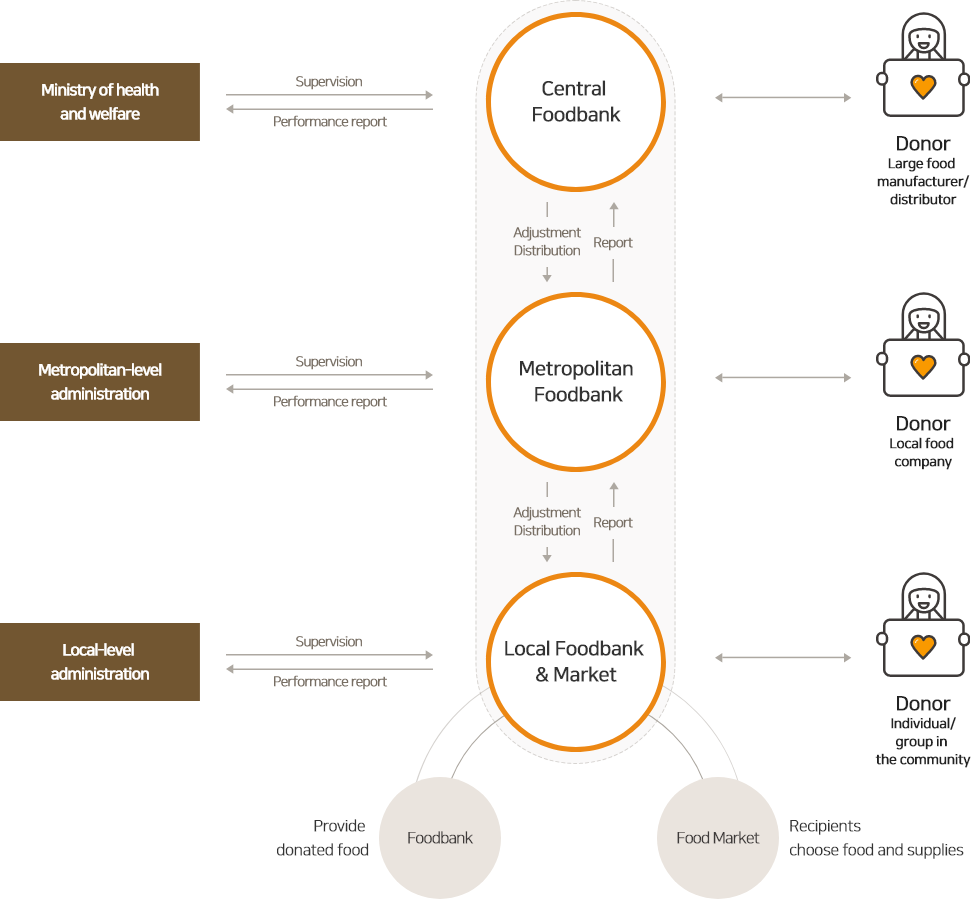 Ministry of health and welfare Supervision Central Foodbank, Central Foodbank Performance report Ministry of health and welfare.
Donor(Large food manufacturer, distributor) donate to Central Foodbank.
Metropolitan-level administration Supervision Metropolitan Foodbank, Metropolitan Foodbank Performance report Metropolitan-level administration.
Donor(Local food company) donate to Metropolitan Foodbank.
Local-level administration Supervision Local Foodbank & Market, Local Foodbank & Market Performance report Local-level administration.
Donor(Individual/group in the community) donate to Local Foodbank & Market.
Central Foodbank, Metropolitan Foodbank and Local Foodbank & Market adjust Distribution and report each other.
Local Foodbank & Market provide donated food to Foodbank and Recipients choose food and supplies to Food Market.
HOW TO OPERATE images a large view
WHAT WE DO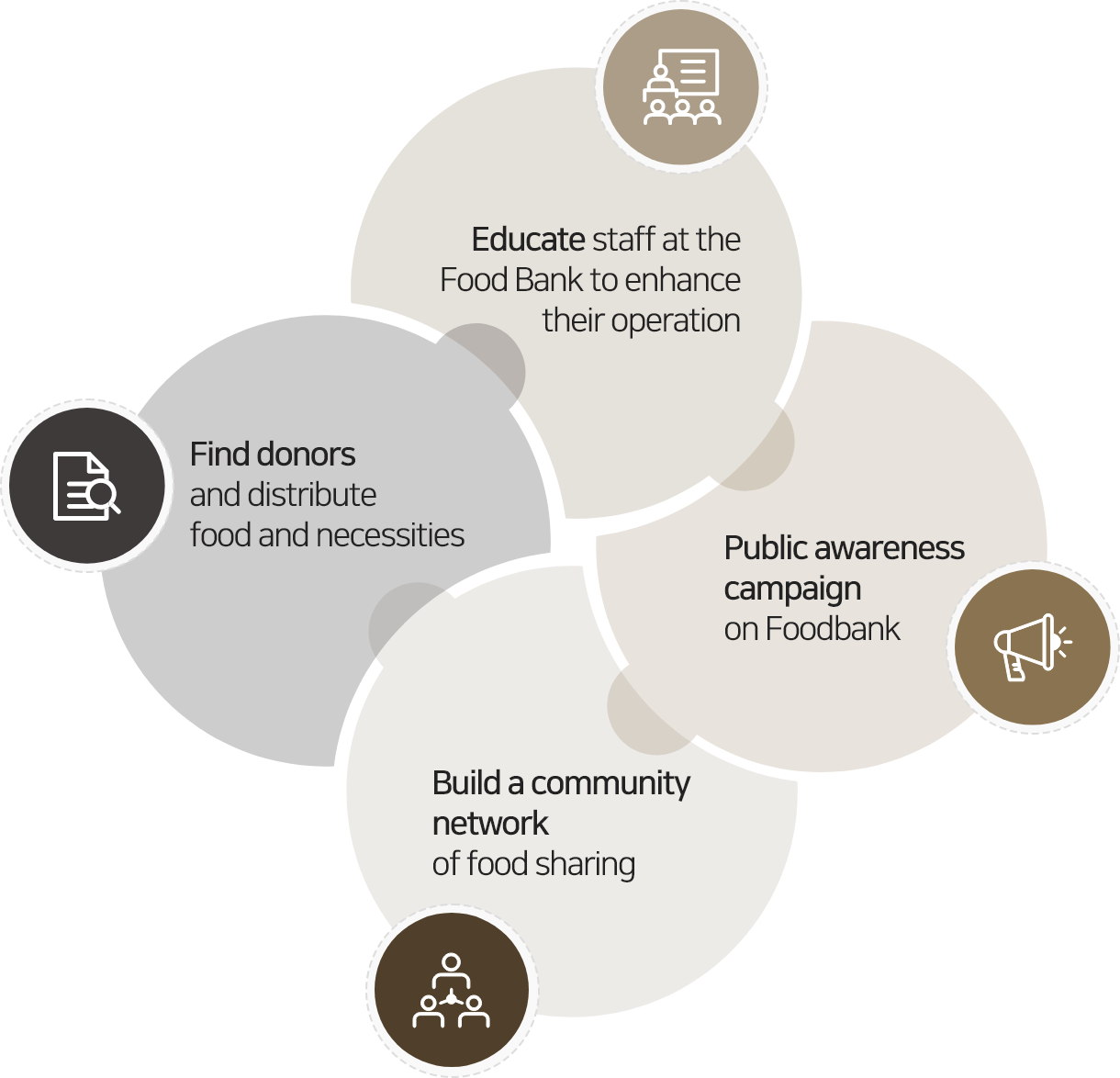 Educate staff at the Foodbank to enhance their operation
Public awareness campaign on Foodbank
Build a community network of food sharing
Find donors and distribute food and necessities
WHAT WE DO images a large view
FOOD BANK & MARKET
Food bank The food and supplies are given out by a delivery service to low-income people and social welfare organizations. It is an aid system where food donated by food companies, restaurants, and bakeries.
Food Market Users (low income people) visit a Food Market where they can choose food and supplies as they would do at stores.
Who it helps People in need of emergency food aid, living just above poverty line, or those who failed to receive National Basic Livelihood Assistance but are still struggling to find food are first ones to receive help.
FOOD & SUPPLIES WE ACCEPT
Staple Food Main meal, rice, rice cake, noodles, bread, etc.
Side Food Ready-to eat, side dish, cooked meal, side dish, ham, processed meat, etc.
Snacks Snacks chips, cookies, fruits, nuts, beverages etc.
Food Ingredient Raw ingredients grains, soybeans, vegetables, fish, meat, seaweed, sauce, salt, sugar canned food etc.
Supplies Essential supplies soap, shampoo, detergent, stationary, etc.
DONATION & DISTRIBUTION
Donated

247,591million won*

Served

311,290Individuals

Served

12,961Social welfare organization
* note: figures calculated by the amount of donated goods